May is Asian American and Pacific Islander (AAPI) Heritage Month. This month we're celebrating our authors of Asian and Pacific Islander descent, but they're not just limited to Americans, as some of our authors are Canadian and one even lives in Germany! Regardless of where they currently reside, we love our authors and are proud to share their work. Support them by picking up some of their books this month!
T. Damon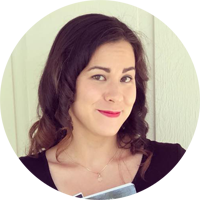 T. Damon has been imagining new tales and bringing them to life through her writing since she was a young girl growing up in Burlingame, California. After getting a bachelor's degree in Zoology and spending several years working at wildlife sanctuaries in Northern California, T. decided to pursue her passion for storytelling and become a full-time author. Aside from writing, in her spare time she enjoys studying astrology, tarot, and anything magical or mystical. T. lives with her husband, two young children, and numerous pets in Santa Rosa.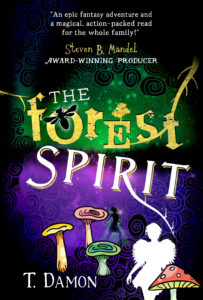 T. Damon is the author of the Forest Spirit series, a mystical fantasy series for both children and all those young at heart. Spanning generations, the captivating story explores the downfall and quest for enlightenment of a troubled Forest's kingdoms of nymphs, faeries, trolls, gnomes, and animals.
Will the little beings who reside within the magical trees be able to save their beloved Forest from the evil that is dead set on destruction? Or will all hope be abandoned as the kingdoms fall further and further into obscurity? Join Narena, Kellen, Felix, Eleonora, and their rag-tag group of beings and animals as they attempt to put a stop to the darkness that is slowly but surely overtaking their Forest. The question is, will they succeed?
The complete Forest Spirit series is available now to read individually or in a single boxed set omnibus!
Dorothy Dreyer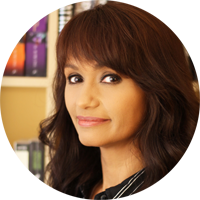 Dorothy Dreyer is a Philippine-born American living in Germany with her husband, her two college kids, and two Siberian Huskies. She is an award-winning, USA Today Bestselling Author of young adult and new adult books that usually have some element of magic or the supernatural in them. Aside from reading, she enjoys movies, binge-watching series, chocolate, take-out, traveling, and having fun with friends and family. She tends to sing sometimes, too, so keep her away from your Karaoke bars.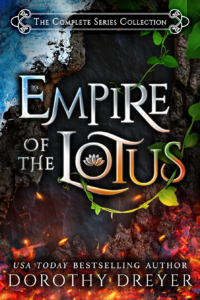 Dorothy is the author of the Empire of the Lotus series, a seven-book YA urban fantasy series set in a dystopian future. When magic is banned by the government and magic academies abolished, to protect her family and escape imprisonment, Mayhara Guatama is forced to surrender her mage status and work for the enemy. But when she receives a mysterious message revealing the abduction of the Lotus Empress, Mayhara must band together with other outlawed elite mages to outrun the government and rescue the empress, all while staying under the radar of a powerful shadow army.
The government is hot on their trails, the soldiers of the shadow army on the rise, and the dark god Kashmeru has the Lotus Empress under his control. With their powers deemed illegal, the elite mages must risk everything to save their world.
The complete Empire of the Lotus series is available now to read individually or in a single boxed set omnibus!
Mary Fan
Mary Fan is a sci-fi/fantasy writer hailing from New Jersey. In addition to her many YA and adult speculative fiction novels, she is also the co-editor of the long-running Brave New Girls series of YA sci-fi anthologies about tech-savvy girls, which aim to inspire more young women to enter science and technology careers and raise money for the Society of Women Engineers scholarship fund. Mary has a B.A. in Music (specializing in composition) from Princeton University. When she doesn't have her nose buried in either a book or a laptop, she can usually be found at the opera house, the beer garden, or on an airplane heading anywhere.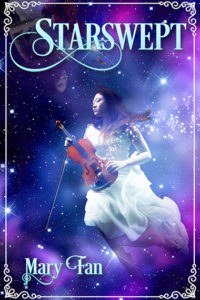 Mary is the author of the Starswept trilogy, a YA sci-fi romance series that Kirkus Reviews called "an elegant, spirited rebellion saga." In 2157, the Adryil—an advanced race of telepathic humanoids—contacted Earth. A century later, 15-year-old violist Iris Lei considers herself lucky to attend Papilio, a prestigious performing arts school powered by their technology. Born penniless, Iris's one shot at a better life is to attract an Adryil patron, but only the best get hired, and competition is fierce. But then a sudden encounter with an Adryil boy upends her world, and Iris finds herself swept up in a rebellion that spans galaxies.
The complete trilogy is available now!
Intisar Khanani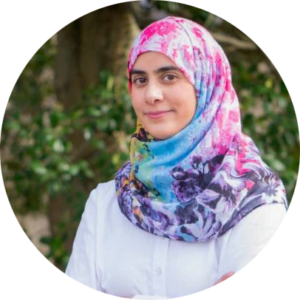 Intisar Khanani grew up a nomad and world traveler. Born in Wisconsin, she has lived in five different states as well as in Jeddah on the coast of the Red Sea. She first remembers seeing snow on a wintry street in Zurich, Switzerland, and vaguely recollects having breakfast with the orangutans at the Singapore Zoo when she was five. She currently resides in Cincinnati, Ohio, with her husband and two young daughters.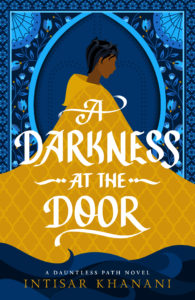 Intisar is the author of the Dauntless Path series, including A Darkness at the Door, a YA fantasy that was named one of Kirkus Reviews' best teen fantasy novels of 2022. Only Rae knows the extent of the corruption at the heart of the kingdom of Menaiya, from the noble lord who betrayed her, to the Circle of Mages whose wards protect the slavers from discovery. Injured and imprisoned on a slave ship, Rae's options are quickly running out. When a desperate escape attempt goes terribly wrong, she finds herself indebted to a terrifying Fae sorceress. Now Rae will not rest until she has rescued her fellow prisoners and freed her land from the darkness that has taken hold. To succeed, she'll need every ally she can find—including Bren, the thief who may have stolen her heart. But Bren is hiding his own bloody secrets, and the curses that encircle Rae have sunk their claws into her mind. With her debts coming due and time running short, all the truths in the world may not be enough to save her kingdom, or herself.
K.S. Villoso
Born in Daraga, Albay, K.S. Villoso writes speculative fiction with themes shaped by her childhood, with grim and grit inspired by both the streets of Manila, Philippines, and the wilds of British Columbia, Canada. Her books range from epic fantasy touched with the horrors of the aswang to long adventures through magic-strewn lands inspired by the engkanto. She now lives in BC with a pack of dogs and humans. When she isn't writing, she spends her days counting to when she can get lost in the mountains again.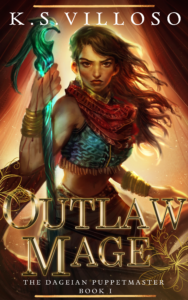 K.S. Villoso is the author of the upcoming Outlaw Mage, the first book in a YA crossover fantasy series. Despite Rosha's best efforts, she will never fit in. To her classmates, she is forever an outsider, a girl from the fringes of the empire just lucky enough to have well-off parents. To her teachers, she is either a charity case or an exception to the rule that Gorenten just aren't capable of performing complex magic. Worse, still, she is nothing but a status symbol to her father—a child gifted with magic to show his powerful friends that even people like them could belong in the empire. As if she doesn't have enough problems already.
Haunted by the invisible rules that pull her dreams just out of grasp, she walks out on the eve of her final exams, throwing away her one chance at becoming an official mage of the empire. She practices magic outside the mage council's grasp, one of the worst crimes anyone could commit. A dropout. A failure. An outlaw.
Years later, her father's shoddy business deals have finally landed him in trouble and he disappears without a trace. Rosha reluctantly enters the services of a rich sorcerer, his last known connection. The sorcerer's sudden death leaves her stranded in a sea of enemies—and the knowledge that the man is the voice behind the ageless, faceless emperor. To protect herself and her family, Rosha must impersonate the most powerful man in the empire. As she becomes everything she has ever hated, she stumbles upon conspiracies that seek to break the empire from within…