View a complete list of our librarian & educator resources here
---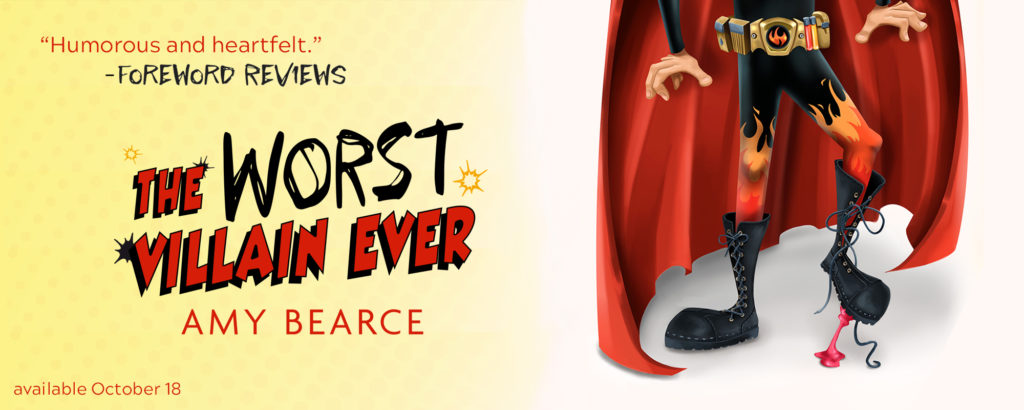 Spotlight On: Amy Bearce
Amy writes magical escapes for young readers and the young at heart, with a focus on tweens and young teens. Through Snowy Wings Publishing, she is the author of the World of Aluvia series (Fairy Keeper, Mer-Charmer, and Dragon Redeemer, available now). Other books she has written include Shortcuts, and the Wish & Wander series, beginning with Paris on Repeat.
She is also a former reading teacher and school librarian. As a military kid, she moved eight times before she was eighteen, so she feels especially fortunate to be married to her high school sweetheart. Together they're raising two daughters in San Antonio. You can find her online at www.amybearce.com.
---
The Worst Villain Ever
A good villain is the worst.
When eleven-year-old George Pruwell is finally admitted to the Academy of Villainy and Wrongdoing, he has big plans of making his family proud, especially his older brother Alex. Unfortunately, unlike his brother, George is anything but villainous. To secure a slot in the school's best class roster and prove himself worthy of his family's wonderfully wicked name, he takes on a nearly impossible assignment: defeat Captain Perfectus, the world's greatest superhero.
Now, George has to figure out how one too-nice-villain-in-training can defeat the most impressive superhero of all time. Alex offers his help, but George isn't so sure he wants to use his big brother's methods. And when Captain Perfectus turns out to have some seriously big problems of his own, George must choose whether to follow his instincts and help the superhero or crush him and become the most villainous Pruwell ever.
"A lighthearted and entertaining play on the title's double meaning." – Kirkus Reviews
---
Secret Psychics
Book One: Shortcuts
Parker Mills has it all. She's the two-time winner of the Miss Divine Pecan Pageant, head of the 8th grade dance committee, and a secret psychic empath. Since she absorbs strong emotions from those around her, Parker has committed herself to finding shortcuts to happiness. Whether acting as a tutor, coach, or matchmaker, Parker knows that when others are happy, she's happy. Granted, all that fixing other people's drama means her own crush has no idea how she feels, but it's still a win-win so long as her psychic method remains a mystery.
At least, that's how it always worked until Mia came to town. With her mysterious past and dark cloud of depression, Mia's moods threaten to rain on Parker's happiness parade. After Parker's usual shortcuts fail—even after bringing super cute Josh on the scene—she's forced to kick things up a notch or two. But when Parker's psychic power goes haywire, dangerous secrets unravel… starting with her own.
"The story moves at a fast clip, with numerous subplots expertly knit together. Each strand builds on the complexity of the tale until its explosive, intense culmination. Shortcuts is a memorable speculative novel that begs for a sequel." – Foreword Reviews, starred review
---

Book Two: Detours
Not even psychics always know who to trust.
Parker Mills is the two-time winner of the Miss Divine Pecan Pageant, the chair of the 8th grade social committee, and a secret psychic empath. With her gift, Parker experiences the strong emotions of everyone around her, which is harder than it sounds. Luckily, she's finally developed better control. Even better, Parker has five awesome friends who are just as gifted as she is, each in their own unique way. It's going to be a great last few months of middle school. But when kids from Archer, the rival middle school, are forced to share Divine Middle, threats and fights explode.
Unfortunately, the Queen of Archer, Gabby Durand, has no interest in using their mutual influence to smooth out the tensions. Nor does she welcome Parker's award-winning help. She's too busy trying to take Parker's top place in everything, as if she ever could. But with new dangers coming at the secret psychics from all sides, Parker needs to work with Gabby before their rivalry literally burns down the school.
---
---
Sign up for our Librarian & Educator Newsletter!