A guest post by Jennie K. Brown
I'm thrilled to have the book of my heart, Scrumptious, out in the world. I wrote this book almost five years ago and after revising, shelving it, revising it again, I am so honored for its release (just day before yesterday) with Snowy Wings Publishing. Scrumptious follows twelve-year-old Petunia Fair, who  spends her free time cooking meals from her Grammy Joanne's recipe book and watching her favorite reality cooking show, Chef Extraordinaire. When Petunia's idol, the world-renowned Chef Jordan Ramikin, announces that the first round of his newest culinary competition, Chef Extraordinaire, Junior, will take place in her home town of Bakerton, Pennsylvania, Petunia's dreams of having a cookbook and restaurant of her very own may be closer than she thinks. All she has to do is do what she does best—cook. Easy as apple pie, right?!
But in order for her dreams to come true, she'll need to out-chef not only the snotty Bianca Friday (who just so happens to be the daughter of her dad's new "lady friend"), but also Luke Paring (Petunia's super cute and super talented crush), all while coming to terms with the death of her greatest culinary inspiration of all—her Grammy Joanne.
Of all the characters I've written, I'd have to say that you'll find more of me—Jennie K. Brown—in Petunia than any other character I've created. Just like Petunia, I love to cook. Just like Petunia, I had a Grammy (her name was Joanne too) who taught me my way around the kitchen. Just like Petunia, my Grammy passed away and I honor her memory to this day by cooking out of a recipe book filled with her recipes—a book very similar to Grammy Joanne's famous recipe book Petunia cooks out of. And just like Petunia's Grammy Joanne's secret family recipe for chocolate rum cake, the recipe book I have sitting on my counter top as I write this post also contains a secret family chocolate rum cake recipe—one that's a favorite among many in my family.
Growing up, I spent many evenings and weekends alongside my Grammy as she prepared and cooked food in the kitchen. We made soups, cookies galore, and desserts of all kind. One of my fondest memories, one that Petunia reminisces about in Scrumptious in fact, was making chicken parmesan with my Grammy for the first time. I was probably ten or eleven years old and remember squirming and complaining when Grammy asked me to pick up raw chicken breast with my bare hands. I hated the thought of touching raw meat, but Grammy reminded me that I could always wash my hands. Simple, right?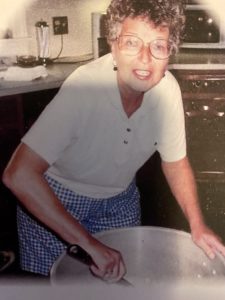 With our aprons tied tight around our waists (the same apron I now don almost thirty years later) Grammy stood next to me as I picked up the meat mallet and pounded the chicken down to a thin slice. She guided me through the egg wash and breading process. She chuckled quietly as I smothered the chicken in way too much mozzarella cheese and allowed the spaghetti water to boil over. But although I loved the side-by-side cooking, the best part of cooking with my Grammy was what happened while the food baked in the oven.
Grammy and I would do one of a few things. We'd sit at her oversized oval kitchen table and talk—about school, music, shopping—we both loved to shop. We'd play round after round of rummy, keeping score on a tiny notepad I'd grab from the junk drawer. Or we'd watch an episode or two of The Golden Girls and laugh along as it played on a tiny eleven-inch TV tucked under the corner kitchen cabinet. Even today, I can envision those times with Grammy and because of Scrumptious they remain close to my heart.
As I wrote every word of Scrumptious, those memories with my Grammy came rushing back and leapt onto the page—the cookbook, the cooking, the card playing, the talking, the simple act of being together. And each time I see the cover of Scrumptious or read a few words within it, I'm transported to thirty years ago and to those scrumptious memories made in my Grammy's kitchen. So yes, this is a book of my heart, and one I'm excited to share with you all!
---
About the Author
Jennie K. Brown is a high school English teacher by day and author of children's books by late night and weekend. She's the author of the award-winning middle grade Poppy Mayberry series. Jennie currently serves as past-president of the Pennsylvania Council of Teachers of English and Language Arts (PCTELA) and she is an active member of SCBWI, NCTE, ALAN and Sisters in Crime. When Jennie's not teaching or writing, she can be found reading, hanging out with her awesome family, visiting antique shops, or plotting her next book! Oh, and she also LOVES all-things Shakespeare! Learn more about Jennie at her website.