We have a special Author Takeover post this week: in lieu of a guest post, we are sharing an exclusive excerpt from Micky O'Brady's brand-new sci-fi, Angel Down, which released this week! Check it out below!
---
The sun sinks behind the grey houses on my right as I cross Melrose and head toward Larchmont Village. My parents took me here a lot when I was younger. Farmer's market on Sundays and the best pizza in town. Not that I remember much of it, but Jezza does, and he likes to tell those stories of the good old times.
The memory plays out in front of my inner eye, bringing a peaceful serenity I'm missing most of these days.
No thinking.
No planning.
No responsibility.
Me likey.
That is until I pass by the old church on Melrose and Vine. Yelling. Shouts. Screams.
"Get him! More! Harder!"
A heavy thud followed by a pained grunt pierces the relative silence.
"Again! Give me the damn bat—" The dull sound of an impact, followed by another grunt and cough.
"Talk, demon! Talk or you'll pay—"
I stop dead in my tracks.
Serenity?
Gone.
Adrenaline?
Pumping.
Another sound of something hitting a soft body, another suppressed pained grunt and yowl, both shooting straight through my heart and into my soul.
Now, I should probably keep on walking. I should. It's dark, not the best neighborhood, and I'm a girl. They tell us we're the weaker sex.
I should so ignore the shouts.
But I don't.
Nope. I sprint into the parking area in front of the church, right to where the fog is the thickest and the street lights don't do much to penetrate it.
"Hey!" I yell as soon as I can make out the silhouette of three people—no, four. Three standing, lined up in front of a fourth on his knees, his chest heaving heavily up and down, breath coming out in chokes. His arms are spread away from his body, his face turned up to his attackers, and this pose, it's giving me chills.
With the three guys around him ready to strike, it looks like an execution—an execution where the guy on the ground has already accepted his fate. Where he is welcoming it.
One of the three guys standing holds a baseball bat high over his shoulder, ready to strike, and the outlines of the other two look no less hostile in their fighting stances, fists up.
What. The. Hell.
I drop my backpack and storm forward, hands balled into fists. "Hey! Three against one is unfair. P*** off!"
Two of them throw a quick glance over at me, their faces hidden beneath hoods, but the third one, the only one who visibly jerked when I yelled, stays focused on the guy on the ground. He raises the baseball bat as high as he can and delivers one hell of a blow to the other guy's head. I scream out at the same time as the bat connects with that poor guy's skull. His head whips around and blood splatters from his mouth onto his thick jacket.
Holy crap—that can't be happening.
The third guy lifts the bat again, ready to do more damage.
Shoot.
Arms spread out wide, I jump right in front of the bleeding guy on the ground, legs shoulder width apart. "Stop! Are you guys crazy?" It's not as if I was in a fighting stance, but my hands are up and ready to defend myself and the guy on the ground. Seriously, I'll scratch their eyes out or whatever. Three against one is not going to happen on my watch, no matter what the other guy did.
Hooded guy number one, the one in the red shirt, shoves the guy with the bat into the shoulder from behind. "S***, one more, J. Don't stop, he's almost softened up. Make him talk. Now!"
"Oh, hell no, you won't!" My heart hammers like crazy as I put my hands on my hips and stare at the three guys. Tall. Wide. Definitely stronger than me—okay, that was lame. Everybody is taller and stronger than me.
I hold my chin up high. "I give you one chance to run away. One chance. You don't take it, I'll scream, and I'm good at that. Or if you come closer, I'll kick your balls all the way up your throat. Bon appétit." I glare at them, and the guy with the bat and his face hidden underneath a black hoodie takes a stumble step back. That's right, buddy. We don't go around and beat people up.
"F*** off, b****." Red-Hoodie steps closer to the one with the bat lifted above his shoulder and hisses, "Finish him."
"No, you won't," I say with the conviction of a prize fighter. As if I could do anything if they decided to hurt me too. But fake it until you make it has been my unofficial motto for forever, and it works.
Also, never show fear.
Which is why I turn around as if the three stooges didn't bother me at all. Never mind my heart hammering against my chest as if itself carried a baseball bat.
"Hey." I bend down to the bleeding guy. "Are you okay?" Well, duh, stupid question. After the last blow, he's on all fours, head lowered, blood caking his short, black hair and dripping from his face onto the dirty asphalt. I saw the hit he took, and it wasn't his first. So no, he's not okay.
Obviously, Sherlock.
Two steps and some shuffling, hissing and whispering behind me. Then, "Step away from that thing."
Thing. A**holes. "Nope."
Instead I reach for the boy's upper arms and help him up from all fours to a kneeling position. His black down jacket is thick and moist. Fog or blood. Fog, I hope. "Come on. Ignore the idiots."
"Holy f***," somebody hisses and another one sounds like he was choking, but so far, I haven't been hit by a baseball bat. Yet. I consider that a good sign.
Someone grabs my shoulder and yanks me away. "Are you crazy, Lea? Get away from him!"
Lea?
Lea?
In my mind, the connection is made before I have time to understand it.
I know that voice.
But there's no way he would—
I let momentum carry me to a half-turn. For the first time, I really get to look at the black-hooded guy with the baseball bat, and I wonder how I could not have known it the second I joined this little get-together, semi-darkness and hood or not.
"Jezza?"
I could swear he flinches, while Blue-Hoodie curses. "F***, man. Run. If she can ID you…" He has a phone aimed at the scene in front of him, since when, I can't say.
Red-Hoodie shoves Jezza in the shoulder. "You're not running. You finish them off both now, the animal and—"
Jezza lifts his head, lips pressed into a thin line. He holds the bat higher. "Out of the way, Lea. Get away from him. Now!" He barks at me, and it's the last straw.
"What the hell, Jezza? You're beating up people now? What's wrong with you?" I stomp my foot.
"You don't understand—"
"No, I understand just fine!" I spin around and try to take the black-haired guy's hands. He yanks them away from me, but come on. Accept help when you need it. This time I'm faster, grab his hands and pull him up to standing. Something warm and sticky squishes between our palms. Ugh, blood.
"S***, is she—"
"Will you finally finish him off? Hell, do I have to do everything my—"
"Lea, no! Don't touch him! Don't—" Jezza voice is filled with panic, but I don't hear it.
I hear nothing but the soft gasp coming from the boy in front of me when our hands connect. One more attempt to pull free, but when I hold on, his fingers curl around mine as if I was a lifeline. His next breath comes out choked. "You know, the oaf is right. I'll get you in trouble."
That's the moment he looks up at me for the first time, and that's the moment my heart stops.
Blue eyes.
Clear, light, crystal blue eyes, like the sky on an early spring morning, so bright they shine from the inside and light me up to the depth of my soul—and yet they look beaten. Resigned. Sad. He's young, maybe a year or two older than me. Angular jaw, some stubble, straight nose and high cheek bones. Tousled black hair. Despite the blood splattered across his face, he is beautiful somehow. Almost perfect.
Beautiful. Perfect.
Beautiful, perfect—an animal. A thing.
Click.
The pieces fall into place with an audible sound effect.
Beautiful and perfect.
Because Lord forbid a Founder was anything less than perfect.
The next breath hitches in my throat.
I'm touching a Founder.
I'm touching a freaking Founder.
A wheezy breath leaves my throat. "You're—"
"Guilty as charged." He gives me a crooked smile. "You probably should let go." He throws a pointed glance down at our hands.
S***!
Instinct takes over, rips my hand out of the boy's—the Founder's—and sends me two steps stumbling back.
A Founder.
Founder. Founder. Founder. That one word plays on repeat and it won't stop.
Founder. Founder. FOUNDER.
I touched a Founder.
Like mother, like daughter.
Every new breath comes harsher than the last, every heartbeat pumps less and less blood to my brain. My body has realized what my mind is still processing. I'm as good as dead.
"J! Here!" The sound of a gun being racked pierces the night and my mental fog.
"What? No! We never said—"
"F*** you, do it! He's wide open! If he won't talk, it's our only cha—"
"I can't kill him. It's a sin—"
"Yes, you can!" Red-Hoodie shoves the gun at Jezza, then picks up two large rocks from the ground.
Across from them, the Founder takes a step forward, chest out, shoulders back. "Yes, you can. Or try, at least." It comes out with a sigh. He takes another step forward.
"F***!" Jezza racks the gun and aims at his chest.
I stare at the scene in front of me openmouthed. This isn't happening.
Not.
Happening.
Jezza is pointing a gun at a Founder.
A gun.
At a Founder—a Founder who is waiting for that bullet. Resigned. Submissive. Surrendering.
He's going to let himself get shot.
What the hell is wrong with everybody here?
Bile rises up my throat.
No, no, no, no.
Jezza shooting a Founder is committing the ultimate sin. He's throwing his life away, and I'm ninety-nine percent sure it's not even going to kill the Founder. Hurt and incapacitate him for a while? Sure. But kill? Nope. Takes more than that, as in cutting off his head.
Like in slow motion, I watch his chest rise and fall with puffy breaths, his trigger finger curl…
…and curl…
…and—
Things happen too fast to process. One moment I'm a bystander, the next I've thrown myself in front of the boy. The Founder. "Stop!"
As if tasered, Jezza's finger flies off the trigger. "Jesus Christ, Lea! Are you crazy? You—"
Behind me, the boy draws in a hoarse breath. "What—"
"F*** it, J! Shoot! Shoot!"
"But Lea—"
"Obviously, she's on their side! Screw her!" Red-Hoodie throws one of the rocks at me and rips the gun out of Jezza's hands. The stupid rock hits the side of my face, and while it hurts, the pain dulls the moment I see him point the gun straight at me. He snarls. "Shouldn't have protected the demon, girl."
Life slows down to a crawl. Look at that, death by gun. Not what I expected. Not ever, and especially not after touching a Founder.
Red-Hoodie doesn't take his time like Jezza did. His finger curls and—
BANG!
A draft of air, a movement too fast for the naked eye to see, a ripping sound—and the boy is in front of me, jacket torn at the seams and two white wings sprouting from his back, spread wide and extending at least two meters in each direction.
Not even a millisecond later, the bullet hits its target.
The boy grunts once, but doesn't stumble. Doesn't fall. Doesn't die.
Oh no, quite the opposite. He opens his fists, both palms glowing blue. "Not. A. Good. Idea." He lifts his hands.
Jezza and his buddies finally realize what they've done: that they shot a Founder. They're as good as dead. Blue-Hoodie is the first to turn on his heels as he pockets his phone. With a strangled squeak, he stumbles and barely catches himself, doing his best to scramble away from the Founder and the blue light that will end his life within a nanosecond.
Red-Hoodie grabs Jezza by the shirt and yanks him around with him. "Move!"
"Wait! Lea—" But Red-Hoodie drags him away with such a force, he'd fall if he fought him. Fall, and stay to be killed. For a moment, Jezza's wide eyes meet mine—and then he's gone.
Which leaves me alone with the Founder. Whom I touched. Who's obligated to end me for that. Who's charged to kill. His whole body is coiled and tight, ready to strike. Not even the extended wings can hide the irregular up and down of his shoulders. No matter it won't kill him, this wound must hurt like hell. He balls his fingers to a fist only to stretch and curl them again, the change of the caerulean blue intensity throwing weird shadows into the fog. Any moment now, he's going to throw up his hands and eliminate all three of his attackers in one single sweep of blue light. Kill them. Vaporize them.
"You've had your chance. Didn't take it. My turn." He raises his hands, and I'm back where I was ten years ago.
A blast so bright it hurt my eyes.
A sound of complete and utter surprise.
The smell of ozone so bad it made me nauseous.
"Stop!" The word is out before I know it was me saying it. Croaking it.
Another second passes before the boy—the Founder—whirls around, wings up for the duration of the movement to not knock me over. Blood seeps through his jacket below his right clavicle. The little bit of light from the street lamp behind him throws a halo into the fog above his head, and as the wings lower, he truly looks like an angel.
An angel of death.
It's all the incentive I need. Self-preservation kicks in, at its finest.
I whirl around on my heels and run.
Keep reading in Angel Down, available now!
---
About the Author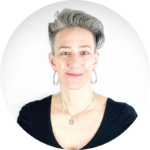 Micky O'Brady is a pediatrician-turned-writer living in beautiful, dry Southern California with her husband and two critters (one son, one dog). Micky loves to write YA thrillers with a romantic twist, mainly because she wishes her life had been such an awesome mix of action and cute guys when she was a teen. When she isn't up at around 3 a.m. (with a cup of tea, Earl Grey, hot) drafting stories she can't get out of her head, she can be found at a martial arts dojo, though maybe not at 3 a.m. She holds a 2nd degree black belt in Judo and a brown belt in Krav Maga, and is convinced every girl should know how to kick some butt. Learn more about Micky at her website.