A guest post by Amy Bearce
Where do you get your ideas? This is probably the top question I get from readers or friends when the subject of my books come up.  I think we all have stories inside of us.  I also write short stories for assessment companies and have sold over 350 short stories, poems, and articles… that's a lot of ideas.  Sometimes it feels like I might run out.  But then I remember.  Ideas are everywhere—if you slow down enough to see them. Here are just a few possibilities.
Non-fiction and current events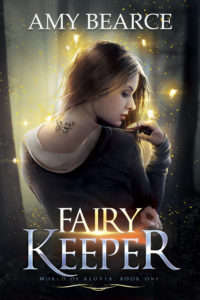 My first published book was Fairy Keeper, book 1 of the World of Aluvia series. It was inspired by my reading science articles, specifically about bees and Colony Collapse Disorder, in which the queen bee of a hive disappears and their hives die.  I was writing a short story about a bee keeper whose bee hives experience Colony Collapse Disorder, and I was reading up on it for research. But my brain wouldn't focus on the actual bees.  I kept wondering, "What if instead of little bees, they were little fairies" and "What would happen if all the little fairies suddenly disappeared?"  And that was the initial scene in my mind for that book, at the end of chapter 1.  My story has a fairy keeper instead of a bee keeper. My little fairies sting and bite. And that realty-based inspiration extended to other things within my fantasy as well. The merfolk in Aluvia have bioluminescent skin because many real-life deep-sea creatures do. As with the bees, I used reality to make my fantasy world more realistic and believable.  Science and real events are a great inspiration for stories!
Other Stories and Characters, with a twist
Shortcuts was less about science and more about inspiration from other stories.  Many years ago, I had read a series of books by Mercedes Lackey called Arrows of the Queen, which involves an empath named Talia who could literally feel the emotions of others.  As an 8th grader, I loved this series.  This was set in a fantasy world, but one day as I was thinking about story ideas, I wondered what would happen if a young teen psychic with the gift of empathy lived in contemporary Texas today. From there, Shortcuts was born.  Think Girl with the Silver Eyes meets Buffy the Vampire Slayer but with psychic powers, set in a Texas middle school.  Those fantasy stories I read years ago are a part of me and found an outlet in my own story.  Detours sprang naturally from Parker's character. I wanted a story that would challenge her personally, and I knew a fellow psychic diva would press all her buttons.  Super fun to write!
Real-World Settings and Traditions
I have a pair of books with Jolly Fish Press called Wish & Wander, set in different famous cities. Book One is Paris on Repeat and this idea came to me in a flash while visiting Paris with my family.  We were living overseas for my husband's work, so the city was only five hours away. My then-ten-year old asked about the love locks along many of the bridges and other places.  A love lock is a tradition in which couples take a padlock, mark it with their initials and leave it locked on a bridge and toss the key in the water, to show their forever love.  Paris had a bridge famous for it—the panels of locks grew so heavy that the city had to take them down. But people continue to leave locks where they can… and as I explained this, my daughter asked, "What happens if one of the locks break?"  And that's when the idea popped in my head of making a Groundhogs Day for tweens, set in Paris, with the worst day of this girl's life happening over and over after she throws away the love lock her secret crush uses…with her best friend.
Book 2, Rome Reframed, was inspired by the Roman tradition of tossing a coin into the Trevi Fountain, which is supposed to mean that you will return to Rome.  My character goes BACK to Rome, alright…back through time.  Both Paris and Rome are amazing cities that beg for stories to be set there.  Maybe you have cities or places you love—the setting could inspire a story for you.
The point of all this is to say: ideas are all around you.  You can listen to the news and imagine that event or information in your imaginary world.  You can take a fairy tale or favorite story and flip the characters or change the setting and see what happens. If you discover that a new fungus in the small town you love is an invasive species that needs removal, you could twist that into an alien invasion story.  There are no limits to the possibilities.
The most common response I get to this explanation is, "But someone's already done my idea."  Well, it's true that most ideas have been done before.  The Save the Cat series sells a ton of copies by breaking down story-telling into types of stories.  The buddy-cop story.  The wish story.  The hero's journey (Have you seen the comparison between Star Wars and Harry Potter?  And both of those owe a giant debt to Lord of the Rings, but I digress.)
Here's the truth: no one can retell a fairy tale like you, or write a coming-of-age story like you or think of the same alien invasion story as you.  Tell the story only you can tell, and you'll be fine.  You've got stories inside you, just waiting for the right inspiration.  Luckily, inspiration is all around you!
Take a deep breath, look around, take some notes, and you'll be overflowing with ideas before you know it.
---
About the Author
Amy writes magical escapes for young readers and the young at heart, with a focus on tweens and young teens. She is also a former reading teacher and school librarian. As a military kid, she moved eight times before she was eighteen, so she feels especially fortunate to be married to her high school sweetheart. Together they're raising two daughters in San Antonio, Texas. Learn more about Amy at her website.