A guest post by Lyssa Chiavari
I recently saw a meme that said, "We're now officially closer to 2050 than we are to 1990." This took a lot of people aback, and probably would have thrown me harder if this wasn't something I thought about a lot. You see, my ongoing series, The Iamos Trilogy, takes place in the year 2073. (Well, when it's not time-hopping, anyway.) While that may sound really far in the future, as of right now, it's only just over fifty years in the future. And while that also might sound like a big number, it's really not. 1970 was fifty-one years ago. And while the technology has changed quite a bit between 1970 and now, culturally it's not all that different. A teenager from 2021 could travel back in time to 1970, and apart from being frustrated by the lack of cell phones/computers, they would have a pretty easy time fitting in.
So, how does one come up with a sci-fi world that's only a few decades ahead of ours, rather than far off in the distant future? Here are a few things I took into consideration when writing The Iamos Trilogy:
Pop Culture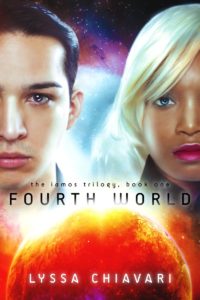 I have seen a couple reviews of Fourth World that expressed skepticism about the existence of "modern" cultural icons being well-known in 2073. But I was actually really careful about the things I referenced. In general, my litmus test is, "If the thing is more than fifty years old and still really popular/successful, it will probably still be really popular/successful fifty years from now." So, for example, Disney. Walt Disney Animation Studios was founded in 1923. That's 98 years ago. Does Disney look like it's showing any signs of slowing down? If anything, they're only ramping up.
Thus, Isaak's little sister Celeste is a big Disney fan, watching Mickey cartoons and adorning her bedroom with merch from the newest Disney Princess movie. For context, the first Mickey cartoon was released in 1928. Disney is still making new Mickey cartoons. The animation style has changed to fit modern conventions, but they are still making those cartoons. Likewise, the first Disney Princess movie (a.k.a. the very first full-length animated feature ever), Snow White and the Seven Dwarfs, was released in 1937. The newest Disney Princess movie, Raya and the Lost Dragon, was released just a couple months ago, in March of this year. I can guarantee, barring the apocalypse, kids in 2073 will still be watching new Disney movies.
Perhaps a riskier bet, but one I'm still comfortable with, was Celeste's other love, Barbie. The first Barbie doll was released in 1959, 62 years ago this year. Mattel is not quite the juggernaut that Disney is, though. That said, they've had multiple ups and downs throughout my lifetime and they've always managed to rebound. Barbie is such a cultural icon that even if Mattel itself were to fail, I think the Barbie brand would be resurrected by another company. I can't see her going anywhere this century, either.
Fashion and Slang
From a lifetime of watching a lot of old TV and movies, I've noticed that when it comes to slang, only a few types of words tend to majorly change over the course of a few decades. One of these is the slang for "good": what used to be "keen," "swell," or "neat" evolved into "groovy," "far-out," "awesome," "radical," and the most enduring, "cool." Another word I've noticed has changed a lot has been "movies" itself. In earlier decades, they were more frequently called "pictures" or "films." In the first decades after sound was added, some were called "talkies," and you'd go see them at the "cinema" rather than the "theater." So those were two slang terms that I chose to invent new words for. For the most part, though, I tried to keep the characters talking the way people talk now, since the way we talk now isn't all too different than how we talked fifty years ago—the aforementioned "groovy" aside.
Likewise, characters dress relatively the same as we do now, with the exception of a few questionable fashion trends like cravat ties for the men, which have come and gone out of fashion over the last 150 years. I figure since all sorts of abominations from the 1970s and 80s are coming back into fashion now—pantsuits, rompers, overalls, please stop—there will be similar regurgitations fifty years from now as well. It's only a matter of what those recycled fashion items will be.
Geography
I don't go into this in too much detail in the books, but when you read New World you may notice that Earth looks a bit different fifty years in the future than it does now.  The series works under the assumption that the sea levels are quite a bit higher than they are currently. Hopefully the extent to which the levels have risen in the series does not wind up panning out in reality. But the higher sea levels allowed me to do some fun things with locations like Florida, as well as play with one of my favorite concepts: artificial islands and seasteads. Something that I haven't been able to squeeze into The Iamos Trilogy but would love to explore in the future, either in a new series or some kind of spin-off, would be a Venice-like Portland. I think that would make a really interesting setting.
Technology
While it should be the most obvious area for a sci-fi series, I have to admit that this is probably my biggest weakness, and the biggest weakness in the series. I'm pretty confident that we're going to blow past all the technology mentioned in the series within the next two decades and it will be old-fashioned in the actual 2070s. But in this regard, I didn't want to go too "futuristic" for the Earth-based tech, because I didn't want the technology of 2070s Mars to be too similar to the technology of the "alien" world of Iamos. I wanted Mars to feel very analogous to modern-day Earth to the readers, while Iamos is very different. That's why I didn't incorporate a lot of voice-controlled tech in the vein of Alexa, either, because I didn't want to come too close to the System. I wanted there to be a contrast there. So in that regard, I was somewhat limited by the story. It doesn't help matters that tech is not really my expertise, so I tend to be a few years behind the rest of the planet in terms of electronics and other gadgets. 😅 But hopefully it's not too detrimental to the story!
These are just a few of the things I took into consideration as I developed The Iamos Trilogy. I hope you enjoyed that little peek into my thought process!
The first two (and a half!) books in The Iamos Trilogy are available now!
---
About the Author
Lyssa Chiavari is an author of inclusive speculative fiction for young adults. Her short fiction has appeared in a number of publications, including the anthologies Magic at Midnight: A YA Fairytale Anthology and Perchance to Dream: Classic Tales from the Bard's World in New Skins, both which she also edited. Her first published story, "The Choice," was named one of Ama-gi Magazine's Best Fiction of 2014. Lyssa lives with her family and way too many animals in the woods of Northwest Oregon. Learn more about her at her website.