June is Pride month, so we wanted to take the opportunity to highlight some of the books and series by Snowy Wings authors that feature LGBTQIA+ protagonists. We hope you'll find something new to add to your to-read list!
Non-Binary Space Rebels from Leigh Hellman
Orbit follows Ciaan Gennett—a reckless, angry young woman whose rebellion lands her in a last-chance probation assignment on her metal satellite planet's port facility. With help (and a lot of fussing) from her best friend Tidoris, Ciaan stays out of trouble until a routine refueling finds them both tangled up with an Earth captain of questionable morality and his stoic, artificially-grown first officer. Initially mutually suspicious of each other and their motives, the group starts to find loyalty, family, and love as their escalating resistance against bureaucratic cover-ups begins unraveling a history of human monstrosity and challenges them to decide what they are willing to risk in search of the truth.
With all four main characters on the sexually-fluid spectrum, the relationships that develop explore the gray areas between platonic, romantic, and sexual love and the queer bonds of found families. Orbit also features a non-binary main character discovering and reclaiming their identity in a system that manufactured a mandated gender for them.
Orbit is an exhilarating sci-fi adventure with a strong dose of mystery and intrigue that is perfect for readers looking for a queer take on the genre. As a queer and non-binary writer, Leigh Hellman seeks to create authentic LGBT characters and stories in their work. While not shying away from digging into the struggles and complexities of living queer lives, they always highlight the resiliency and joy that thrives in embracing and celebrating who we truly are.
Gay Mages from Dorothy Dreyer
Many of USA Today-bestselling author Dorothy Dreyer's books feature LGBTQIA+ characters. In Copper Mage, book two in the Empire of the Lotus series, Shiro is a mage, imprisoned in dystopian New United Asia for his outlawed powers. During his quest to survive the brutal bullying of the corrupt government prison camp guards, Shiro falls in love with Qiang, who not only stands up for Shiro but also helps him escape. But when their plans go askew and they are separated during their escape, Shiro doesn't know if he'll ever see Qiang again… or if the object of his affections has even survived.
The other books in the Empire of the Lotus series feature more LGBTQIA+ characters as well, as does Dorothy's Curse of the Phoenix duology, which include a lesbian couple as two of the main characters, as well as a bisexual and non-binary pirate couple as another two main characters.
Pansexual Nymphs from Mary Fan
The Fated Stars series from Mary Fan, currently consisting of Book 1, Windborn, and two prequel novellas, Tell Me My Name and Let Me Fly Free, takes place in a medieval-style fantasyland inspired by the enchanted forests and magical kingdoms Mary loved reading about as a child… but with a twist of darkness. The premise of Windborn is that an air nymph, Kiri, is captured by dark magicians and has seven days to return to her homeland, to which she is bound, before she dies… but there's more at stake than just her own life. An ancient prophecy, foretelling the world's destruction, is starting to come into being, and the human boy helping her escape, Darien, is at the center of it.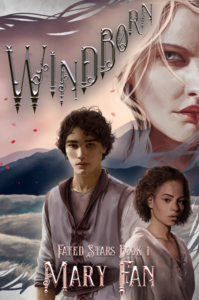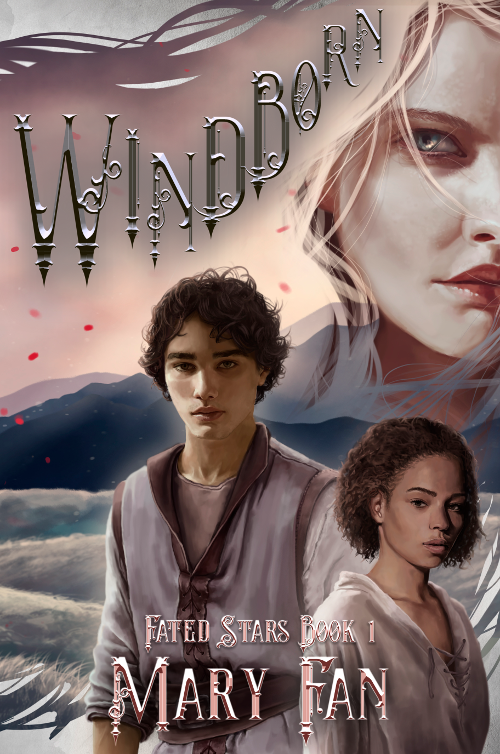 Mary imagined the nymphs to be elemental beings created—not born—purely from magic. And because all the nymphs she'd read about had been female, she imagined an all-female society. Which then led to the obvious conclusion that pretty much all of them would be lesbians, because why wouldn't they fall in love with each other? And Kiri was the type of character to open her heart—of course she would have had a sweetheart among the nymphs.
At the same time, the premise of Windborn—and again, Kiri's personality—begged for a romance between Kiri and Darien. She was the kind of character to see the best in others and fall in love easily—regardless of gender. And so she was written as pansexual.
Another important character in Windborn—a POV character who narrates a third of the book—is a teen girl named Arrin, who dreams of inventing great machines but begins receiving disturbing visions of the future that lead her to seek Kiri. When Mary was plotting the Fated Stars series, she attempted various romantic pairings for Arrin—none of which worked—and then realized, Oh, that's because she's ace.
The Fated Stars series will consist of five novel-length books—all of which have been outlined, and the second of which is planned for a 2024 release. In addition to Kiri and Arrin, Kiri's (ex?) girlfriend Elaia, a fire nymph, will play an important role (and is the main character in the prequel novella Let Me Fly Free).
Aces on Mars from Lyssa Chiavari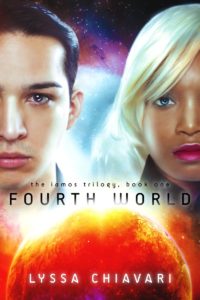 The Iamos Trilogy by Lyssa Chiavari is a sci-fi adventure set on Mars in the near future… and simultaneously in the distant past. When an archaeological artifact sends Isaak, a teen from the late 21st century, thousands of years back in time, he meets Nadin, a girl living on ancient Mars as the planet's atmosphere is just about depleted. This chance encounter sends the two on a time-bending quest to save Nadin's people and bring freedom to both their worlds.
At the same time, the teens learn about each other and themselves. Isaak is demisexual, and at the time of Fourth World, the first book in the series, he has already come out to his friends and family and is comfortable with his identity. Nadin, on the other hand, is asexual but has no framework with which to understand herself. Throughout the series, she comes to learn what being ace is and begins to accept herself. As an ace author, Lyssa wanted to portray the diverse experiences of being asexual, and Nadin's journey of self-discovery draws from her own personal experiences.
The Iamos Trilogy is also filled with queer side characters, from their friend Tamara's lesbian mothers, to their newfound friends Scylla, an aromantic ace, and Zero, who is non-binary. The last book in the series is coming soon!
Bisexual Fairy Tale Heroines from Amy McNulty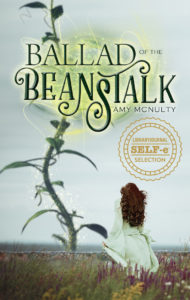 Ballad of the Beanstalk is a fantasy prequel to the fairy tale "Jack and the Beanstalk" that reveals the true story behind the magical singing harp. Clarion, a poor farmer's daughter who loves music, is dealing with a broken heart after the loss of her father and the end of her romantic relationship with her first love and best friend, the wealthy Elena. When Mack, a lord's dashing young son, rides into town so his father and Elena's can arrange a marriage between the two youth, Clarion finds herself falling in love with a boy for the first time. Drawn to Clarion's music, Mack puts Clarion and Elena's relationship to the test, but he soon vanishes by climbing up a giant beanstalk that only Clarion has seen.
This tragic fairy tale story, which was a Library Journal SELF-e Selection, features a bisexual heroine and a lesbian ex. The two argue about whether or not to marry men because it's expected of them or if they should remain true to themselves and their hearts.
Aromantic Space Witches from Janina Franck
Janina Franck's A Spark in Space follows Tabea—an aro-ace cadet in the space core who attains the powers of technomancy in an accident. Instead of romantic relationships, her focus lies on deepening the bonds she shares with the people around her, including her captain, Jim Callaghan, her friends Besma and Vincent, the sentient spaceship Calliope, and eventually the non-binary Penyali nurse Sh't'ani.
Global warming has long since forced humanity to expand out into the universe, colonize other planets and encounter other sentient space-faring species, some benign, some hostile. This also brought the discovery of Space Witches—beings capable of controlling technology and energy with their minds. Due to an accident Tabea becomes the first human with such abilities which, though she keeps them secret, paints a target on her back. After a pirate attack, Tabea is separated from her ship and crew, finding herself instead in the custody of the Penyales—a species known to be hostile toward humans. But against all expectations, they ask for Tabea's help, offering in return to find Tabea's friends. They can't lie—but can they be trusted?
---
We hope you found some new books you're interested in checking out. This list focused on books with LGBTQIA+ protagonists and viewpoint characters, but there are also many books in our catalogue with queer side characters, so be sure to check out our full books page. Happy Pride!