A guest post by BJ Pierson
I'm beyond excited about the release of SuperDrew. I can't wait for people to meet Drew and Jazz and Ms. Lungowe and explore the secrets of Donhil Corp with me.
But you know what else? I. Am. Terrified.
A little backstory: I have hypermobile Ehlers-Danlos Syndrome (hEDS), a genetic connective tissue disorder that affects the strength of my collagen. In basic terms, my tendons and ligaments aren't strong enough to hold my bones in place, so they will dislocate just for funsies. It's a very painful condition with a host of secondary problems, and means I have worn one form of mobility aid or another since I was 11.
Fast-forward to about five years ago, when my crazy little brain dreamt of a teenage boy climbing into a dump truck full of mattresses. I woke up at 4am and by the time my husband woke about 7, I had the basics of SuperDrew scribbled down.
I don't know at which point Drew started wearing orthopedic braces on his leg and arm. But it made perfect sense: a random kid wouldn't have the gear to sneak around a high-profile corporation, but a kid who'd given the Batman treatment to his braces would.
SuperDrew and the Secrets of Donhil Corp didn't take long for me to write. I had a finished draft in just a few months. I read it, my family read it, my critique partners read it. Everyone loved it.
But like I said, that was five years ago. And I'm just publishing SuperDrew now. Why the wait? I can talk about the logistics of self-publishing until I'm blue in the face, but the biggest factor that held me back was fear. Who would want to read a story about a disabled kid? Would anyone be able to relate to this geeky boy who just wants to tinker with stuff and make cool things, while trying his best to be more than just The Kid With The Braces?
I've been assured the answer is "a lot of people". I'm not the only one who struggles with disabilities, and there are kids (and adults!) out there who need to see someone with limitations achieve great things. But I'll be honest, while my mind knows that's true, my heart is still beating like a baby rabbit's. I didn't set out to write a great representation novel. I didn't have thoughts of encouraging young disabled kids when I was writing. I was just having fun. What if I did it wrong? What if no one likes Drew? What if I opened up too much in this story, and people will see me in it, and they won't like what they see?
Ah-ha, and here we come to the crux of the matter. The reason SuperDrew is so much scarier for me to publish than my other novels. Because while every book I've written has had little snippets of me scattered throughout them, SuperDrew is a snapshot into my life with disability, my daily struggles and my dreams despite them, and that is a part of my life that I tend to keep very, very private.
My family and friends were great encouragements to me, always reminding me how much good SuperDrew could do and how much they loved the book. Lyssa at SWP was amazing, a quiet reassurance that whenever I was ready to publish SuperDrew, she wanted to help me do it. All of this was essential to getting the bravery to make this story into a real, honest-to-goodness book. But Drew himself gave me the biggest push and the greatest encouragement. Because Drew is scared, Drew hurts, Drew doubts himself and his abilities, but Drew never stops. Drew makes things to do what he can't. Drew doesn't let his disabilities stop him—he turns them into an advantage.
And Drew is me.
We put pieces of ourselves into every story we write. I wrote Drew disabled in similar ways that I am. I wrote Drew trying his best to be a normal kid in a world that doesn't know how to handle disabilities. But I also wrote Drew to be brave, and strong, and I couldn't have done that if I didn't somewhere, deep down, have bravery and strength also.
So I'm publishing SuperDrew, and I'm scared, but I'm excited. Because maybe there's someone else out there who needs a reminder that we can be damaged, but we don't have to be broken. That we can turn our disadvantages into advantages. And that we can be scared, but we can still be brave.
SuperDrew and the Secrets of Donhil Corp is available now!
---
About the Author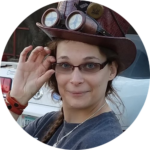 BJ Pierson is just a nerd living her dream. She's written books for adults, but found her home in young adult and middle grade stories full of awesome magic, cool gadgets, and regular kids saving the world. When she isn't writing she's probably crocheting, reading, playing video games, or eating tacos. She's living the good life with her husband and kitties in her hometown of Tucson, Arizona. Connect with BJ Pierson on Twitter.