A guest post by Annie Cosby
In a field near the village of Tulsk in County Roscommon, Ireland, there's a small slit in the earth that leads to a cave. This cave is called "Uaimh na gCat," or "Oweynagat," which translates to "Cave of the Cats."
It's also known as Ireland's Gate to Hell.
This is because the ancient Celts believed this cave to be an entrance to the Otherworld, where demons and beasts and the goddess Morrigan reside. The cave is also widely recognized as the historical home of Halloween.
While I didn't get to climb inside it on a guided tour during my most recent visit to Tulsk (population 241), it's on my bucket list. Just as soon as I gather the courage. For now, I relish the back story, educating myself on Oweynagat so when I finally face the cave, I'm prepared.
Here's a quick rundown of how the modern holiday of Halloween was birthed from a cave in rural Ireland. Hopefully it's useful info should you ever find yourself standing at the Gate to Hell.
The Birth of Halloween
Oweynagat is part of a fascinating archeological site in Tulsk called Rathcroghan. Thousands of years ago, this site served as the capital of Connacht, one of the five ancient kingdoms of Ireland. Here in the capital is where the ancient Celts gathered from all over the kingdom to celebrate their beloved pre-Christian festivals with feasting, trade, organized games, marriage arrangements, and ritual offerings. (It also features prominently in my latest series, Souls Out of Ireland.)
One of the Celts' four major pagan festivals was "Samhain," a celebration of the end-of-year harvest and the beginning of winter on October 31. Samhain was a time of transition, a period of change, when the Celts believed the borders between our world and the Otherworld was thin.
In fact, it was said that during Samhain, strange, fearsome beasts emerged from the Otherworld to ravage the landscape and prepare it for winter. They emerged from Ireland's Gate to Hell—from Oweynagat.
While the Celts feared these beasts that emerged from the cave, they were a necessary evil to prepare the land for winter. So the Celts would light bonfires on hilltops and disguise themselves as demons to confuse the beasts and protect themselves. Bonfires and costumes sound a bit familiar, right?
The Evolution of Halloween
Over the years, many Celtic regions were conquered by the Roman Empire, and during this time, traditions from Samhain mixed with several Roman festivals in October. Later, a Roman Catholic holiday called "All Saints Day" was moved from May to November 1, and the day after became "All Souls Day," which developed its own tradition of children going door-to-door to beg for food in England.
Back then, All Saints Day was called All-hallowmas ("Alholowmesse" in Old English), and so, in regions where Samhain traditions were still alive, the night of Samhain (the night before All-hallowmas) became known as "All-Hallows Eve." Eventually, that became "Halloween."
So how did we get from all that to the version of Halloween so many of us know today?
The earliest European settlers in the United States didn't celebrate Halloween, but as the colonists' different European traditions mixed with that of the Native Americans and the seasons and necessities of a different land, distinct traditions arose, including harvest festivals and autumn-centric celebrations. And then, in the nineteenth century, Irish immigrants showed up in droves, bringing with them their old Celtic habits and making Halloween a mainstay of American life.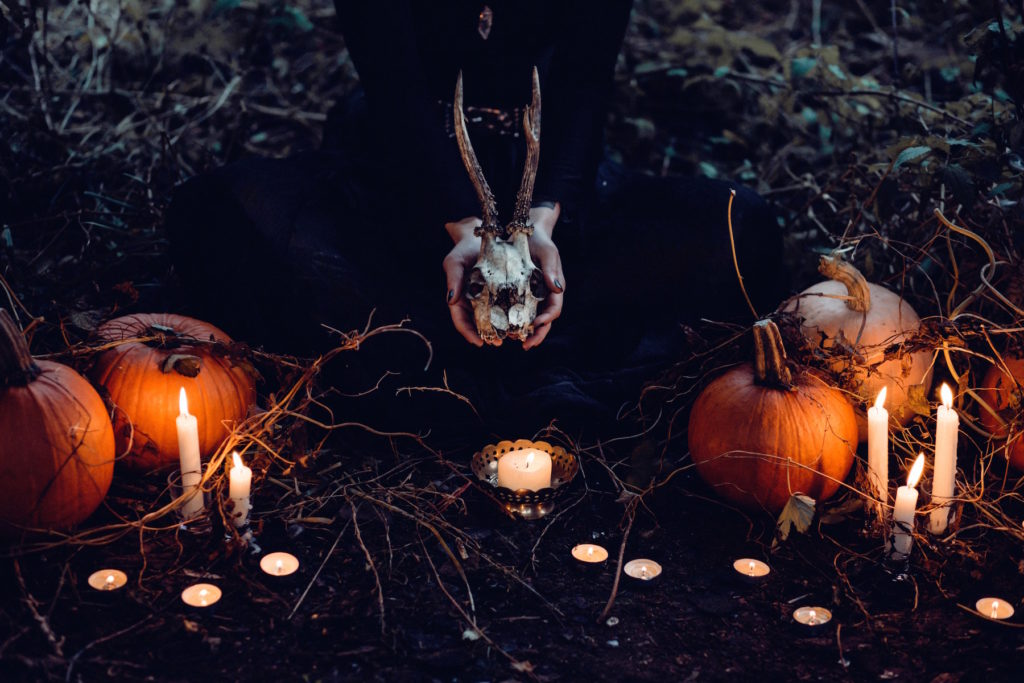 So there you have it. The (truncated) story of how Halloween came to be, thanks to Ireland, the Celts, and a human fascination with the macabre.
My latest fantasy book, The Court of Medb, delves deep into the mythology surrounding Rathcroghan and Oweynagat. You can pick up the first book in the series, The Daughters of Morrigan, for just a couple bucks! Find your preferred retailer HERE.
You can also find more info and fun extras at my website, AnnieCosby.com.
Happy Halloween!
The Court of Medb is available now!
---
About the Author
Annie Cosby is the author of the USA Today-recommended Hearts Out of Water series and countless other YA tales seeped in Celtic lore. A short, dog-obsessed, ketchup-loving romantic from the middle of America, Annie spent three years living in Galway, Ireland, which gave her mono, set her soul on fire, and introduced her to her husband. She now lives and writes in her native St. Louis, Missouri, where there are far fewer faerie rings, but far more sandwich shops. Learn more about Annie at her website.