A guest post by Clara Kensie
The most recent book I published was Kill Me Once, Kill Me Twice in October of 2019, and I haven't written much since then. The stress of Covid and 2020 in general had a part in it, but the truth is I had been planning on taking a (possibly permanent) hiatus from writing anyway. I'm incredibly proud of KMOKMT and all my books, but for reasons too complex to list here, being an author had long ago become a dreaded obligation rather than something that brought me joy. So, I took a break.
I've been using my hiatus to reignite that joy. Here are some of the things I've done. If you're struggling with enjoying writing and authorship, maybe they'll help you, too:
Rediscover Creativity
The Artist's Way by Julia Cameron is a twelve-week self-guided program designed to help you rediscover your creative self. I did the program first in 2017 and again in 2020 during my hiatus.
The new-agey, spirituality of it may not be for everyone, but I personally got a lot out of it, especially the more concrete activities, like weekly Artist Dates where you take yourself on a solo date every week to do something creative. Some of my Artist Dates included trying my hand at knitting, going on a nature walk to photograph trees and wildflowers, and learning a fun TikTok dance. I also really enjoy Morning Pages—a daily journaling activity that I've done for over four years without missing a day.
The Artist's Way revitalized my passion for creativity. The book is available here. I also recommend the accompanying workbook.
Learn How to Be Happy
When the pandemic lockdowns first started, I heard about a Yale University class called The Science of Well-Being taught by Professor Laurie Santos. Apparently, it's the most popular class in the history of the school, so they filmed it and made it free and available online to everyone as a ten-week, self-guided course.

This class isn't about writing or creativity, but it does teach you how to be happier, and I knew I needed to be happier before I could start writing again. I signed up and watched every video and did every activity.
It was informative, enlightening, and a lot of fun! It taught me what psychology says about happiness, what makes us happy (it's not what you think), and how to put it into practice. Indeed, I finished the class a happier person than when I started it. You scientifically measure your happiness at the beginning and the end of the course, so I have proof that it worked for me!
You can sign up for the course here. It's free and open to all. Bonus: it's cool to casually mention to people that you're taking a class at Yale. LOL.
Develop New Habits and Hobbies
Inspired by The Science of Well-Being and The Artist's Way, I've developed new, healthy habits and creative hobbies. The habits include exercise, meditation, and prioritizing sleep, and the hobbies include cooking, hiking, and painting.
I'm also adding reading to the list. Although I had always been a voracious reader, it slowed to a trickle during the years I was unhappily writing. Writing and promo consumed all my time and emotional energy and left me with no desire to read. But since my writing hiatus started in October 2019, I've read over 300 books. I've completely changed my reading preferences as well—I now read mostly adult rom coms, domestic thrillers, women's fiction, and dark erotic romance, whereas in the years I was writing, I read almost exclusively YA.
Write Something Different
Just as my reading tastes have changed, so has my writing. My published books are all YA, but in trying to get my mojo back the past few years, I've experimented with writing different genres. I flirted with erotic romance, something that was a lot of fun, and contemporary fantasy, something that wasn't fun at all. A few months ago, I had an idea for a series of adult feel-good rom coms. I've been dabbling with it, and I like it a lot. I have some YA manuscripts that I need to finish eventually (including the long-overdue third book in my Deception So series), but this rom com series may just be what brings me back to writing and publishing.
Hiatus Over?
Now that I've made some progress, is my writing hiatus over? Not quite. My creativity and happiness have been restored, but I'm not ready to shout from the rooftops that I'm back in the writing game. Honestly, I'm scared that if I commit myself to writing like I did before, it will consume me and become a dreaded obligation again. For now, I'm going to continue dabbling with my new rom com series when the mood strikes. Hopefully something will click and my writing will take off, and I'll have lots and lots of books to share with you in the future. And if not? I'll be happy just being happy.
Kill Me Once, Kill Me Twice is available now!
---
About the Author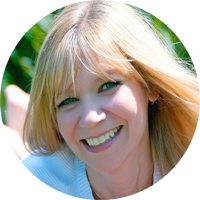 Clara Kensie grew up near Chicago, reading every book she could find and using her diary to write stories about a girl with psychic powers who solved mysteries. She purposely did not hide her diary, hoping someone would read it and assume she was writing about herself. Since then, she's swapped her diary for a computer and admits her characters are fictional, but otherwise she hasn't changed one bit. Today, Clara is an award-winning author of dark fiction for young adults. Learn more about her on her website.