A guest post by Sarah Dale
I personally have struggled. I've pushed back one deadline already, and Something Twisted, the 5th Tale of the Zodiac Cusp Kids, was completed front to back during the pandemic. ("Completed" is the keyword there—yay!)
I see others' answers to that question on social media that run the gamut. On one hand, there are artists like Taylor Swift dropping not one but TWO unexpected albums in addition to one scheduled one. On the other, there are so many of the rest of us locked in an interminable Blursday, staggering half-conscious through another shift or Zoom meeting, then yanked into sudden motion in time to have another blithering freak-out over online school or some fool's blatant mask issues or the latest headlines.
As a human, alive in this weird time, I've felt obligated to and have made a concerted effort to bear witness. Even if I do nothing else, I told myself. Even if I can't write a word, I'll push myself to keep my eyes and ears open. Even that feels like a herculean effort some days.
As to what I've observed—extremes seem to be the emergent pattern. Complete lockdown vs. complete explosions. Not the I've been stuck inside all winter and today is the first day of spring so I'll drive with my windows down and blast Van Halen kind of explosion. This is more like the well-known description of modern warfare: "Months of boredom punctuated by moments of terror."
COVID: Telework, Kobe Bryant, Zoom meetings, Tiger King, mask Mandates, Tik Tok, remote learning, SpaceX, toilet paper, George Floyd, wildfires, Warp Speed vaccine tech, Chadwick Boseman, how to vote, virtual Christmas, surprise insurgency, polar vortex. A person could get whiplash trying to keep up.
I feel strongly that the extremes of living have saturated my creative life. Normally I seek to balance time spent pondering with time putting pen to paper. I'll allow outlines and research to satisfy one part of my brain, not forgetting that caressing words and seeking flow strokes another part. But in this Year of the Thousand Opposite Days, that has become a unique struggle.
The ideas are there. There is no shortage of them. But like lost fireflies, their illumination is blanketed by the fog of endless hours spent motionless but adrift, marked only by screen after screen of doom- or glee-scrolling, neither of which penetrate. The act of creating, of putting pen to paper, seems tenuous, too distant to grasp.
The battle to balance the light with the dark right now isn't a fairy tale, it's what the fairy tales are there to prepare us for.
While our environment has served us up one enemy, our minds have gifted us with another. The enemy to our bodies is external and must be survived. The tricky bit, is the enemy of our minds is the survival strategy. Isolation. Vagueness. The Covid drift. If I keep my eyes on reality unfocused, what's out there can't hurt me. Six feet away, masked, not touching, I will survive.
Necessary, yes. But it's not enough. Just survival isn't enough. The isolation and suffering that we've been made deliberately to experience has made marks on us that just surviving the pandemic won't heal.
Martin Luther King Jr. said in his "Loving your enemies" sermon in 1957, "Darkness cannot drive out darkness; only light can do that." His words were aimed at hatred. But hatred is not the only cause of suffering. We know that, up close and personal right now. We have suffered, and there must be a healing.
I totally know that all the clocks are out of sync. I'm fully aware that the calendar went out for a pack of smokes and never returned. I also know that in order to light a fire, you need a match and that's where our creativity comes in.
We Need joy. Need with a big N. Without joy, we may be alive, but we aren't Alive. We're just taking up space. Creating art, whether your tool is a pen, a brush, a spice jar or a guitar pic, is wielding the match. Because when you create, you share joy. Sure, the act of creation is joyful unto itself, and thus it benefits you – the artist. But the intent – the intent to share your work – that's where the fire really gets going.
We Need art. Your art. My art. All of it is necessary.
So you, yes you! Go now and write one word! Pull out your wooden spoons. Mix some colors. Play a chord. Remember, one is more than zero, and once you light a fire, it spreads. Never forget that we need the joy, we need the stories, and the songs, and the pictures that inspire and encourage all of us to do more and be more. Make your creative fire a joyous one, and invite a friend to sit with you, remotely or otherwise, and bask in the healing warmth.
Here's my contribution 🎇
Something Twisted is available now!
---
About the Author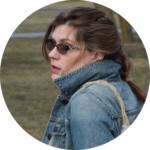 Sarah Dale is an author, mom, daughter, step-mom, pack member, friend, dog-walker, cat-appreciator, library book balancer, word lover, think thinker and picture-taker living in Lincoln, Nebraska, just generally trying to get things done. Learn more about Sarah at her website.