Hey Snow Angels! We are so excited to be revealing the cover of Mary Fan's upcoming Young Adult fantasy, Windborn (Fated Stars, Book 1). The cover features art by Anne Drury and was designed by Story Wrappers. Are you ready for the cover? Check it out below!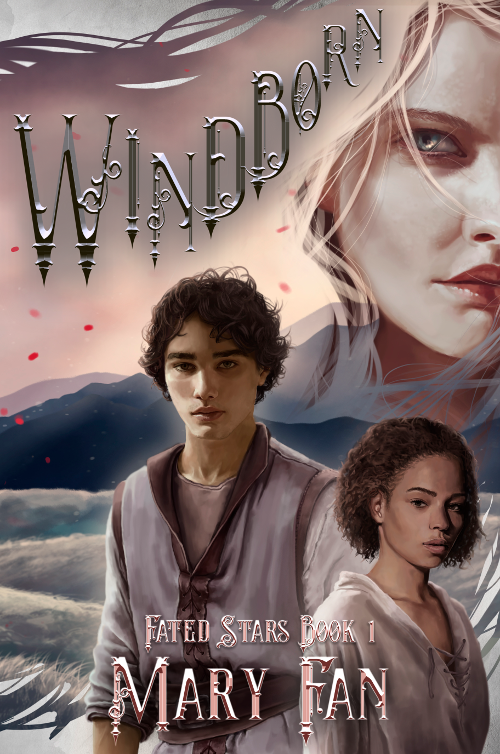 The Age of Fire is coming. It's written in the stars. Trapped by dark magicians, the air nymph Kiri is running out of time. Like the rest of her kind, she's bound to her homeland, and if she doesn't return in seven days, she'll die. Her only hope is in the magicians' young apprentice, Darien, whose fierce gaze belies a kind heart. Despite her warnings, he helps her escape, and Kiri soon finds herself fleeing from relentless pursuers who will stop at nothing to recapture her and kill the boy who dared defy them. With the magicians hot on their trail, Kiri and Darien embark on a treacherous journey through dangerous lands. But she soon learns that there's more at stake than her own life. An ancient evil is stirring, one foretold to consume the world with fire. And Darien is at the center of it—though how, she doesn't know. Meanwhile, the clock is ticking on her life, and unless she can make it back to her land, she won't live long enough to unravel the dark puzzles surrounding the intriguing, secretive young man—or stop the monstrous force bent on destroying everything.
Title: Windborn (Fated Stars, Book 1)
Author: Mary Fan
Release Date: February 11th, 2020
Publisher: Snowy Wings Publishing
Cover Designed by: Story Wrappers
Add Windborn to Goodreads now!
Sylvia here! What do you think of the cover? Comment below or fly on over to our Instagram and let us know what you think!