Today's the day! Snowy Wings Publishing's sister imprints, Animus Ferrum Publishing and Caleo Press, are now open!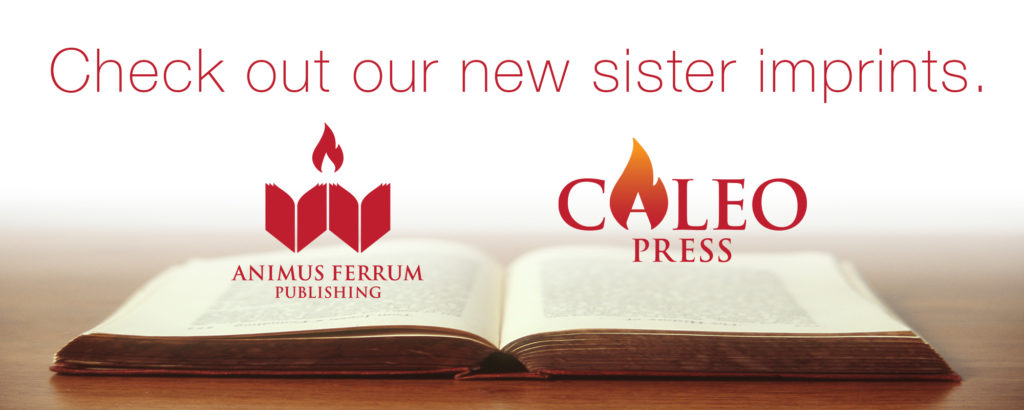 Animus Ferrum Publishing specializes in adult and new adult speculative fiction, including sci-fi, fantasy, horror, and more.
Lauren Jankowski's Shape Shifter Chronicles, an urban fantasy series previously published on the SWP label, now has a new home at AFP. And to celebrate, the trailer for the third book in the series, From the Ashes, is now on YouTube!
Additionally, our own Tracy Korn will be launching her new series, First Bloods, a sci-fi/dystopian/urban fantasy mash-up, this spring!
Animus Ferrum Publishing will be open to submissions for a brief period this March!
Check out Animus Ferrum Publishing's website here.
Caleo Press specializes in adult and new adult romance, with three heat levels: Sweet (no sexual content), Spicy (some non-explicit sexual content), and Caliente (erotica). You can find the heat levels broken down on the books page of the Caleo Press website so you can select the books with content you're comfortable with!
Joy Penny's Stay in Touch series, a NA contemporary romance, has moved to the Caleo imprint, and the two upcoming books in the series (Touch of Comfort and Touch of Romance) will be published on that label under the Spicy heat level.
Clare Dugmore's All It Takes, a stand-alone NA contemporary romance, has also moved to Caleo and will be updated with a new cover and some new content soon!
We also have a handful of current/upcoming Sweet and Caliente titles from new authors Juliet Bardsley, Elisa Keyston, and Lina Jubilee!
Caleo Press will be open to submissions for a brief period this March!
Check out Caleo Press's website here.
We're so excited to be starting these new chapters in the Snowy Wings Publishing story, and we're looking forward to keeping our own focus on bringing you the best MG and YA fiction in indie publishing. Watch this space, because we've got an exciting announcement coming next week for a new author and new books dropping this month!