October is upon us, a.k.a. Snowy Wings' birthday month. It's our second anniversary already! Time flies when you're having fun!
We've got a lot of exciting news and announcements this month, including a major announcement on our actual anniversary, October 3, which we can't wait to share with you! But in the meantime, we've got a special anniversary giveaway for you: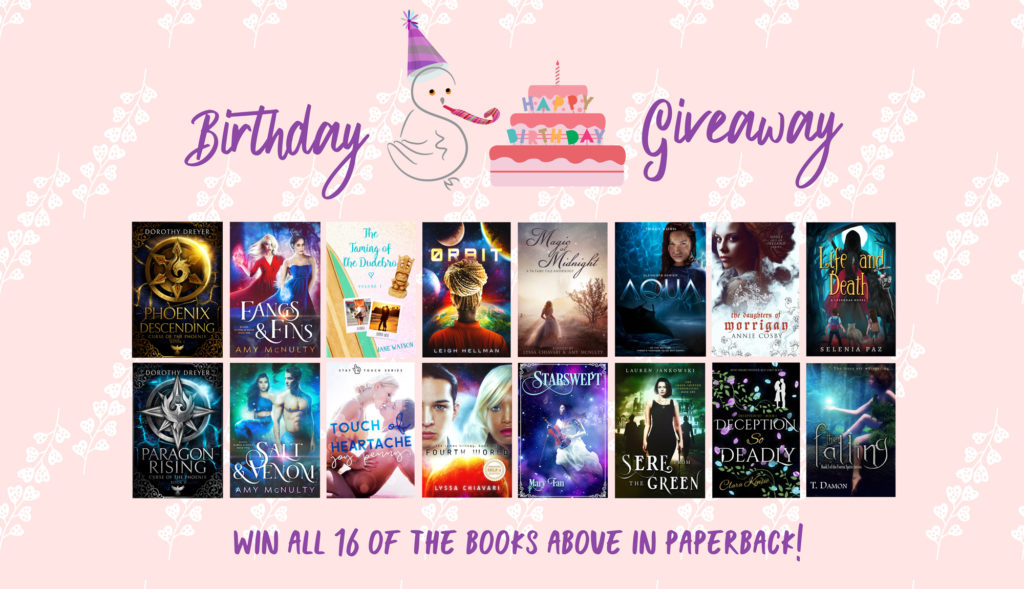 To celebrate our birthday, we're giving away paperback copies of the following books:
Phoenix Descending and Paragon Rising by Dorothy Dreyer (upper YA fantasy)
Fangs & Fins and Salt & Venom by Amy McNulty (YA paranormal romance)
The Taming of the Dudebro, Vol. 1 by Jane Watson (YA contemporary romance)
Touch of Heartache by Joy Penny (NA contemporary romance)
Orbit by Leigh Hellman (upper YA science fiction)
Fourth World by Lyssa Chiavari (YA science fiction)
Starswept by Mary Fan (YA sci-fi romance)
AQUA by Tracy Korn (YA science fiction)
Sere from the Green by Lauren Jankowski (NA urban fantasy)
The Daughters of Morrigan by Annie Cosby (YA contemporary fantasy)*
Deception So Deadly by Clara Kensie (YA romantic suspense)
Life and Death by Selenia Paz (MG contemporary fantasy)
The Falling by T. Damon (MG fantasy)
Magic at Midnight: A YA Fairy Tale Anthology edited by Lyssa Chiavari and Amy McNulty
* The Daughters of Morrigan is scheduled to release in paperback in mid-November; the winner will be sent their copy after the book's release
This giveaway runs for the whole month of October and is open internationally! Enter below:
And be sure to check back on Wednesday for our announcement! We're so excited to share it with you!