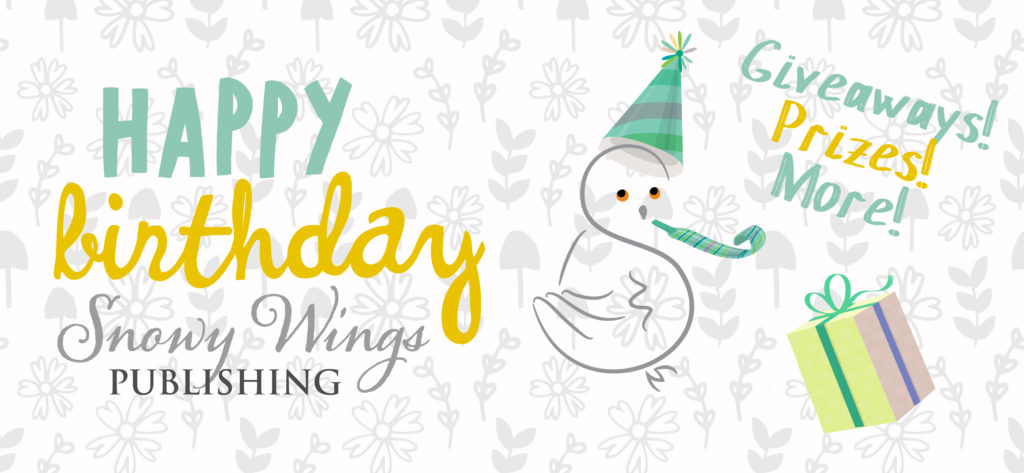 Happy October, everyone! You may not realize it, but this month (October 3, technically) marks Snowy Wings Publishing's one-year anniversary! It's incredible to think how far we've come in just one year. We are so pleased to have brought you so many great books this year, and we're looking forward to continuing the tradition for many years to come! We have some exciting announcements in the coming weeks about new authors joining the ranks and new books from our current authors; but in the meantime, we want to celebrate our first year by bringing you an awesome giveaway!
Happy Birthday: Enter to Win 12 13 Paperbacks & More
To celebrate SWP's one-year anniversary, we are giving away one giant prize pack including paperback books, swag, and more! You can find the full prize list at the bottom of the page; here's the entry form:
A Free Gift For Everyone
But we wanted to do more than just a typical raffle, to thank you all for your support this year. So we're giving everyone who enters a free digital swag pack! This download includes short stories, deleted scenes, a special printable journal designed for any book blogger or book lover, and a printable character guide to help aspiring writers!
Because this download includes ebooks and we know not everyone has the same kind of e-reader, there are two separate download links. Both have the exact same content; the only difference is the file extension on the ebooks.
**Sorry, this download is no longer available!**
What Are the Prizes?
PAPERBACK GIVEAWAY PRIZES:
One lucky winner will receive paperback or hardcover copies of:
Bonus! An extra paperback was added to the prize list after the giveaway started:
Additionally, the winner will receive a phoenix necklace, a butterfly necklace, a space journal, and bookmarks galore!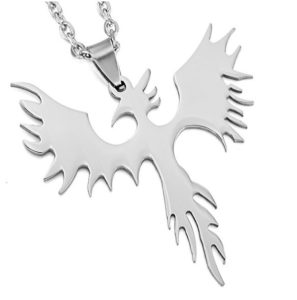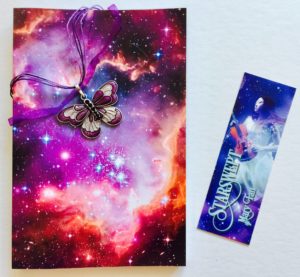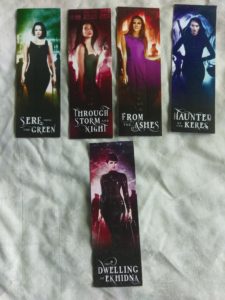 Just some of the great swag the winner will receive!
See the bottom of this post for rules and restrictions.
---
DIGITAL PRIZE PACK:
Every person who enters automatically receives the digital prize pack. Here's what's inside your download!
A special printable reader's journal from author Clara Kensie
"Building a Character Profile" – tips and tricks from author K.M. Robinson, plus bonus sample character profiles featuring behind-the-scenes info from Golden and Jaded
"Gale" – a short story from Perchance to Dream, by Lyssa Chiavari
"The Desperate Warrior and the Beast Who Walks Without Sound" – a short story from Perchance to Dream, by T. Damon
"Ball Gowns and Blood Stains" – a short story by Dorothy Dreyer
"The Adventure of the Silicon Beeches" – a short story by Mary Fan
"A Love for the Mistletoe" – a short story from the A Love for the Pages universe, by Joy Penny
"A Turn on the Ice" – a short story/"lost" chapter from Crown of Ice, by Vicki L. Weavil
**Sorry, this download is no longer available!**
---
RULES AND RESTRICTIONS FOR PAPERBACK GIVEAWAY:
No purchase necessary. Open to residents of the countries on this list. Winner must have a valid mailing address in one of the listed countries in order to receive the prizes. Prizes will be shipped individually, so please allow up to 2-3 months for all prizes to be delivered. The winner will be randomly selected and we will contact the winner via email to obtain winner's mailing address. We will not use any entrant's information for any purpose other than notifying the winner.