Today we're bringing you an exclusive interview from Clare Dugmore, author of "All It Takes" (Feb 2017)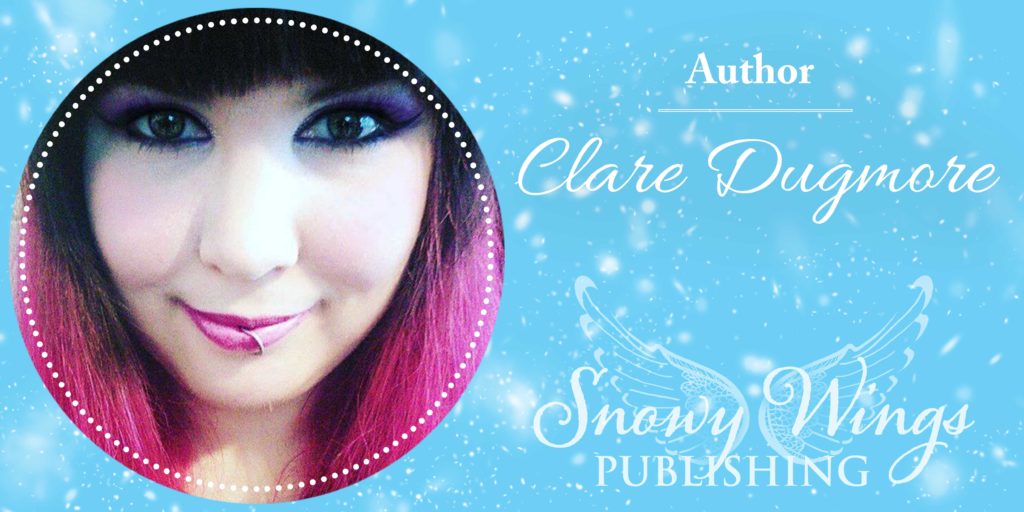 1.) Did you make a New Year's Resolution?
No, I don't make New Year's Resolution, for a few reasons. If you set yourself a huge target at the start of the year, and then don't meet it for whatever reason, you're going to be discouraged, and feel like a failure. I find it better to set myself smaller, realistic goals throughout the year. Also, I don't believe in using the New Year as a reason/ motivation/ whatever to better yourself. You should be working on becoming the best possible you every day of the year, not just for a few weeks after New Year's as a lot of people seem to with resolutions.
2.) What would one of your character's resolutions be? 
This is a brilliant question for me, as it really relates to Kian Murphy, one of the main characters from my contemporary-romance ALL IT TAKES, which releases on February 14.
Kian meets the other main character, Megan Green, just before Christmas, and their one night together results in Megan getting pregnant.
Kian has a lot of issues, stemming from anger management problems, and without a doubt, his New Year's resolution would be to get his anger issues, and drinking problem under control, so that he can be the best dad possible to his child when it's born!
3.) If you could assign any resolution to that character that you think would help them, what would it be?
My current work-in-progress is a contemporary age-gap romance, and my main character, Jade, can be a bit of an overthinker, especially where men are concerned! So, my resolution for Jade would be to chill, and stop overthinking EVERYTHING! Sometimes life isn't as complicated as she makes out in her head!
4.) How did you celebrate New Year's? 
We didn't. We just had a normal night like any other; had dinner, played video games, watched TV and went to bed. New Year's Eve isn't really a big deal in our house.
5.) Would your character be happy having a big party to celebrate or would they prefer a small gathering of close friends?
I think, despite appearances, both Megan and Kian (individually and eventually, as a couple if they get together) would prefer a small gathering of close friends.
Kian is constantly in the limelight because of his MMA career, so when he has the chance he enjoys quiet nights with those closest to him.
And while Megan enjoys a night out now and again, she has a small circle of friends, and is a little introverted, so she'd be happy with just her BFF, Stacey, and a few others.
6.) January tends to be a cold month, are you a fan of cold or warm weather?
Being a February baby, I love the cold weather. For me, it's easier to get warm (put the heating on, add more layers, wrap myself in blankets) than it is for me to cool down. Plus I love snow and frost. It's so pretty! 😀
7.) When it's colder out, where is your favorite place to write?
At home in front of the PC, with the heating cranked up, a cup of tea and wearing my fleece cow pyjamas and fluffy socks, so I'm all snug and cosy.
8.) January is a time of new beginnings…are you beginning anything?
Yes, I'm actually starting a new low-carb/ low-sugar diet. I'm almost at the end of my first day, and it's going really well!
9.) What is one thing you are looking forward to in January?
For all my TV shows to return. While it's been great binge watching Mr Robot and Westworld, I miss my regular shows like The Flash, Arrow, Supergirl, Legends of Tomorrow, Once Upon a Time and Walking Dead! I'm quite ready for my nightly hour of epic TV to resume!
10.) What is your wish for the SWP readers this January?
My wish for our fans for the year of 2017 is to find plenty of fantastic reads to escape into, and to make new friends via the SWP community of authors, bloggers, and readers etc.
Thanks so much to Clare Dugmore for joining us this month to chat about her New Years plans, the cold weather, and her wish for our readers. We can't wait to have you back!
Until then,
Thanks for joining us at SWP, where we're taking the book world by storm!