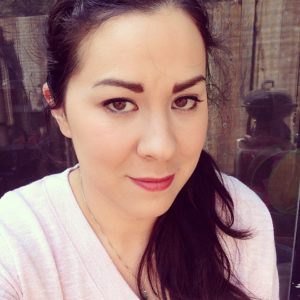 T. Damon has been imagining new tales and bringing them to life through her writing since she was a young girl growing up in Burlingame, California. Though oddly enough, most of her professional life has been in the zoological field, where she volunteered at the San Francisco Zoo and worked as a tour guide at Safari West in Santa Rosa for many years. T. Damon always assumed she would make her career in the animal field, as she holds a Bachelor's degree in Zoology, but her passion for writing was a fire within her heart that was not to be ignored.
Aside from writing, in her spare time she enjoys studying astrology, tarot, and anything magical or mystical. But since having any free moments with a toddler is rare, T. Damon mostly spends her days raising her young daughter, Lenore, and tending to her husband Mark and numerous pets at their home in Santa Rosa.
Through Snowy Wings Publishing, T. Damon is the author of The Forest Spirit Series (The Falling, The Haunting, The Reckoning, and The Awakening, available now), an original faery-tale fantasy series for middle-grade readers.
Connect With T. Damon