World of Aluvia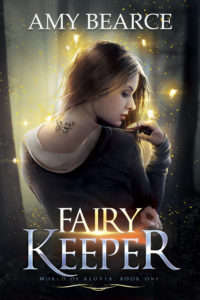 Book One: Fairy Keeper
Forget cute fairies in pretty dresses.
​In the world of Aluvia, most fairies are more like irritable, moody insects. Still, almost everyone views the fairy keeper mark as a gift. It reveals someone has the ability to attract and even control fairies. Fourteen-year-old Sierra considers it a curse, one that binds her to a dark alchemist father who steals her fairies' mind-altering nectar for his illegal elixirs and poisons.
But when all the little fairies die mysteriously and the fairy queens go missing, more than just the life of her fairy is in the balance. Jack threatens to sell Sierra's little sister as an indentured servant to pay his debts if his most profitable elixir can no longer be produced.
​Determined to protect her sister, Sierra will stop at nothing to find the fairy queens, leading her to a magical secret lost since ancient times. The magic waiting for her has the power to transform the world, but only if she can first embrace her destiny as a fairy keeper.
​"Amy Bearce's debut novel was one of the more unique fairy stories I've read. The characters were well-developed and thought out, and the world was well-rendered." – Wordsmithing and Worldbuilding Book Reviews
"The plot and characters were great, the creatures were magical, the book was easy to read, and the setting was perfect for the storyline. It's a great book that I would recommend to any fiction lover looking into fantasy." – Fiction Foresight
"Literally, a fantastic read! I loved the adventure the three characters went on!" – Benjaminoftomes, Managing Director/CEO of Tomes Publishing and Book Vlogger, described by Teen Vogue, The Huffington Post and The Guardian as one of the leading BookTubers in the UK
---
Book Two: Mer-Charmer
Fourteen-year-old Phoebe Quinn is surrounded by magic, but she can't muster any of her own. Her sister is a fairy keeper. Her best friends are merfolk. And all she does is dishes and housework.
When Phoebe finds out a terrible sea creature is awakening that preys upon the peace-loving merfolk, she becomes determined to help them, even though it means risking her life deep in the ocean. Beneath the waves, Phoebe learns she's more like her sister than she realized. The merfolk are drawn to her, and she can sense the magic of the sea all around her. Magic is finally at her fingertips—which is precisely why the stirring dark power under the waters decides it wants her most of all.
Now she must not only help the peaceful merfolk escape this ancient enemy, she must master her raw, out-of-control powers. If she fails, she will die and darkness will rise and enslave the merfolk once more. But embracing her full power could cost her the very people she loves the most.
"Magic, adventure, romance, and a wonderfully creepy villain—The Little Mermaid wishes it was this book!"- Heidi Schulz, New York Times Bestselling author of Hook's Revenge, Hook's Revenge: The Pirate Code, and Giraffes Ruin Everything!
"Bearce creates a vivid, colorful underwater world filled with the beautiful and terrifying in equal measure. You won't be able to look away."- Sharon Bayliss, bestselling author of The December People series.
---
Book Three: Dragon Redeemer
Four years have passed since a fairy swarm released the voice of prophecy in Nell Brennan. In that painful moment, a skilled warrior became a reluctant leader and defender of Aluvia's magic. Now a new enemy threatens their still-fragile lands, one Nell feels powerless to stop even with help from the voice within her.
A mysterious dark alchemist from the Ice-Locked Lands is rising to power on the strength of his sword arm and an ice-breathing dragon obedient to his command. He promises unlimited magic to his followers and death to those who defy him. If he takes over the ports, his corrupt elixirs will disrupt the delicate balance of peace between Aluvia's people and all magical creatures.
The voice of prophecy sends Nell and her friends to their enemy's treacherous domain to find a sword of legend. Only the sword's magic can prevent a return to a world of dying fairies and caged merfolk. But Nell's up against the toughest foe she's ever faced. In order to defeat him, she must master the unimaginable power of the sword―and the unwanted magic inside herself.
"Dragon Redeemer is book 3 of a series — I have not read the other books, but I didn't need to. This book stands tall and proud on its own merit, although I have to confess I will definitely be reading the other two books in the series as soon as possible, for I want to return to this fascinating and wonderful land." – Mary Anne Yarde, author of the Du Lac Chronicles
"A satisfying conclusion to the Aluvia trilogy, told from the point of view of the strongest character in the series."— Edward Aubry, author of Unhappenings and the Static Mayhem series.
"I'm truly in awe over this series, and this book was the best one yet."— Goodreads review
---
Secret Psychics
Book One: Shortcuts
Parker Mills has it all. She's the two-time winner of the Miss Divine Pecan Pageant, head of the 8th grade dance committee, and a secret psychic empath. Since she absorbs strong emotions from those around her, Parker has committed herself to finding shortcuts to happiness. Whether acting as a tutor, coach, or matchmaker, Parker knows that when others are happy, she's happy. Granted, all that fixing other people's drama means her own crush has no idea how she feels, but it's still a win-win so long as her psychic method remains a mystery.
At least, that's how it always worked until Mia came to town. With her mysterious past and dark cloud of depression, Mia's moods threaten to rain on Parker's happiness parade. After Parker's usual shortcuts fail—even after bringing super cute Josh on the scene—she's forced to kick things up a notch or two. But when Parker's psychic power goes haywire, dangerous secrets unravel… starting with her own.
"The story moves at a fast clip, with numerous subplots expertly knit together. Each strand builds on the complexity of the tale until its explosive, intense culmination. Shortcuts is a memorable speculative novel that begs for a sequel." – Foreword Reviews, starred review
---

Book Two: Detours
Not even psychics always know who to trust.
Parker Mills is the two-time winner of the Miss Divine Pecan Pageant, the chair of the 8th grade social committee, and a secret psychic empath. With her gift, Parker experiences the strong emotions of everyone around her, which is harder than it sounds. Luckily, she's finally developed better control. Even better, Parker has five awesome friends who are just as gifted as she is, each in their own unique way. It's going to be a great last few months of middle school. But when kids from Archer, the rival middle school, are forced to share Divine Middle, threats and fights explode.
Unfortunately, the Queen of Archer, Gabby Durand, has no interest in using their mutual influence to smooth out the tensions. Nor does she welcome Parker's award-winning help. She's too busy trying to take Parker's top place in everything, as if she ever could. But with new dangers coming at the secret psychics from all sides, Parker needs to work with Gabby before their rivalry literally burns down the school.
---

The Worst Villain Ever
A good villain is the worst.
When eleven-year-old George Pruwell is finally admitted to the Academy of Villainy and Wrongdoing, he has big plans of making his family proud, especially his older brother Alex. Unfortunately, unlike his brother, George is anything but villainous. To secure a slot in the school's best class roster and prove himself worthy of his family's wonderfully wicked name, he takes on a nearly impossible assignment: defeat Captain Perfectus, the world's greatest superhero.
Now, George has to figure out how one too-nice-villain-in-training can defeat the most impressive superhero of all time. Alex offers his help, but George isn't so sure he wants to use his big brother's methods. And when Captain Perfectus turns out to have some seriously big problems of his own, George must choose whether to follow his instincts and help the superhero or crush him and become the most villainous Pruwell ever.
"A lighthearted and entertaining play on the title's double meaning." – Kirkus Reviews
---
About the Author
Amy writes magical escapes for young readers and the young at heart, with a focus on tweens and young teens. Through Snowy Wings Publishing, she is the author of the World of Aluvia series (Fairy Keeper, Mer-Charmer, and Dragon Redeemer, available now). Other books she has written include Shortcuts, and the Wish & Wander series, beginning with Paris on Repeat.
She is also a former reading teacher and school librarian. As a military kid, she moved eight times before she was eighteen, so she feels especially fortunate to be married to her high school sweetheart. Together they're raising two daughters in San Antonio. You can find her online at www.amybearce.com.
---