The Leyendas Trilogy by Selenia Paz
Book One: Life and Death
When Natalia's younger brother disappears while on a visit to Mexico, Natalia is certain that La Llorona, the mythical Weeping Woman, has taken him. Her friend Miguel agrees to accompany her back to Mexico in the hopes that it will help him deal with the recent death of his grandfather. But as they embark on a journey to search for the creature that has taken Natalia's brother, it becomes apparent that the spirits Miguel had brushed aside as mere legend are very real… and they have a dark connection to his family.
★ From an award-winning author (Lee & Low Publishing New Voices Honor Winner, 2012)
"Paz crafts a fantasy adventure…imbued with a mystery that should keep people reading." – Booklist
"Paz does a great job providing space for readers to create emotional ties to the characters—each character, even the ones who aren't human, has their own backstory that is rich and moving. A fun, exciting, entertaining and touching story." – LatinxReads
---
Book Two: Gods and Demons
Miguel did not think he would be returning to Mexico so soon, but when El Charro appears and asks for his help in finding out who is behind the darkness that appears to be spreading, Miguel agrees. La Llorona, searching for the same truth, enlists the help of Natalia, who wants to guarantee the safety of her brother and all children like him. As they travel their separate but similar paths, the legends they come across help them to understand that there may be other forces at play—some more powerful and ancient than they could have imagined.
"Suspense mounts as the friends come to realize that the sinister forces may be far beyond what they, and even their powerful friends, can handle." – School Library Journal
---
Book Three: Shadows and Light
Miguel never expected to be making a journey with Death, but from the start he knows there is something different about this journey. As Miguel and Death set out to save an old friend, Natalia and La Llorona come closer to discovering the truth about what lies in the darkness. As they search for the one god who might be able to stop it, they find something completely unexpected, and realize they will need strength that has not been seen for a thousand years. In this final installment of the Leyendas series, Miguel discovers truths about the world and about himself and finally learns how to accept it.
---
About the Author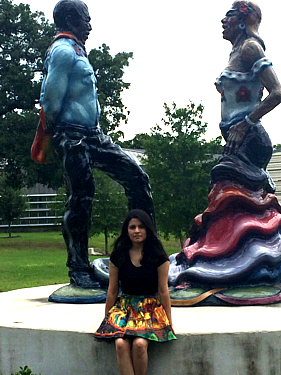 Selenia Paz loves to write stories containing elements of mystery and of the supernatural. When not writing, she loves to read and run with her dogs. She received her Master of Library Science degree from Texas Woman's University in 2010, and has been a librarian ever since. Her short story "Broken English" was the Honor winner of Lee & Low Publishing's New Voices Award.
Through Snowy Wings Publishing, Selenia is the author of Leyendas Trilogy, a middle grade fantasy series, and the upcoming YA mystery The Devil's Daughter.
---