Erin Petti, author of Thelma Bee in Toil and Treble, will be presenting at the virtual nErD Camp PA: Banned Books Edition on July 15. This is a free, online-only event hosted by Millersville University. Educators, Librarians & Book Lovers everywhere are welcome to attend virtually! Learn more and register at this link.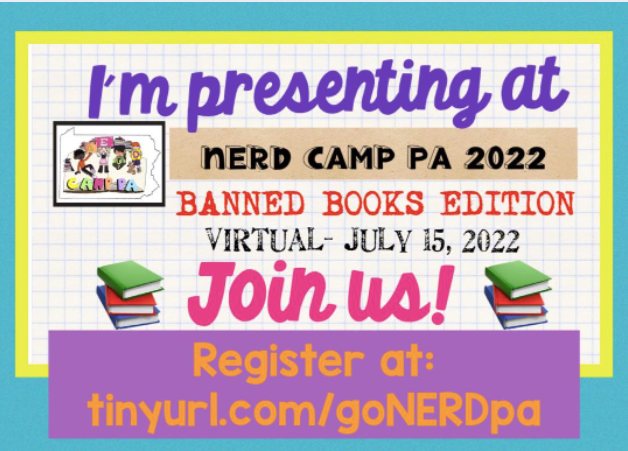 nErD Camps are FREE professional development sessions for educators and librarians who love books and want to discuss timely topics with the people who create them! The first nErD Camp was started in Michigan in 2013 by two amazing educators: Colby Sharp and Donalyn Miller. Since then, nErD Camps have popped up all over the country, and in Canada. Two years ago, on July 16, 2020, in the middle of the pandemic, we held Pennsylvania's very first nErD Camp! Of course, it was virtual.  We had over 100 incredible authors and illustrators join us via Zoom.  This year, we have tons of incredible authors and illustrators registered to participate in nErD Camp PA and so many fabulous break out sessions to choose from! Our spotlight panels and many of our breakout sessions will be focused on the effects of books bans and empowering educators, librarians and community members to share, read, and give children access to diverse & inclusive literature!  Don't miss this incredible FREE event!
Each session will end about 10 minutes early to allow for breaks for presenters, attendees & organizers. Spotlight Sessions are in a Webinar Format and are the only session going on at that time. Breakout Sessions are in a regular Zoom meeting room. There are multiple breakout sessions to choose from that are going on at the same time. Please see our schedule on the registration form.